Top Quality Plumbing Services 24/7

Sewer Repair in Chatsworth
*One coupon per transaction. No combining with other
offers.
Valid from Jan 4, 2021 – Dec 31, 2021
NEED A PLUMBING SERVICE?
CONTACT CANDU!
Best Sewer Repair in Chatsworth, CA
Are you suffering from a sewer line plumbing issue? Are you in need of an expert Sewer Repair in Chatsworth, CA? You must know that a sewer system is an undeniably complex material to deal with. That's why it is not a decent idea to leave a sewer line repair or replacement to a layman plumber. Instead, you must consult Candu Plumbing & Rooter in order to fix the problem.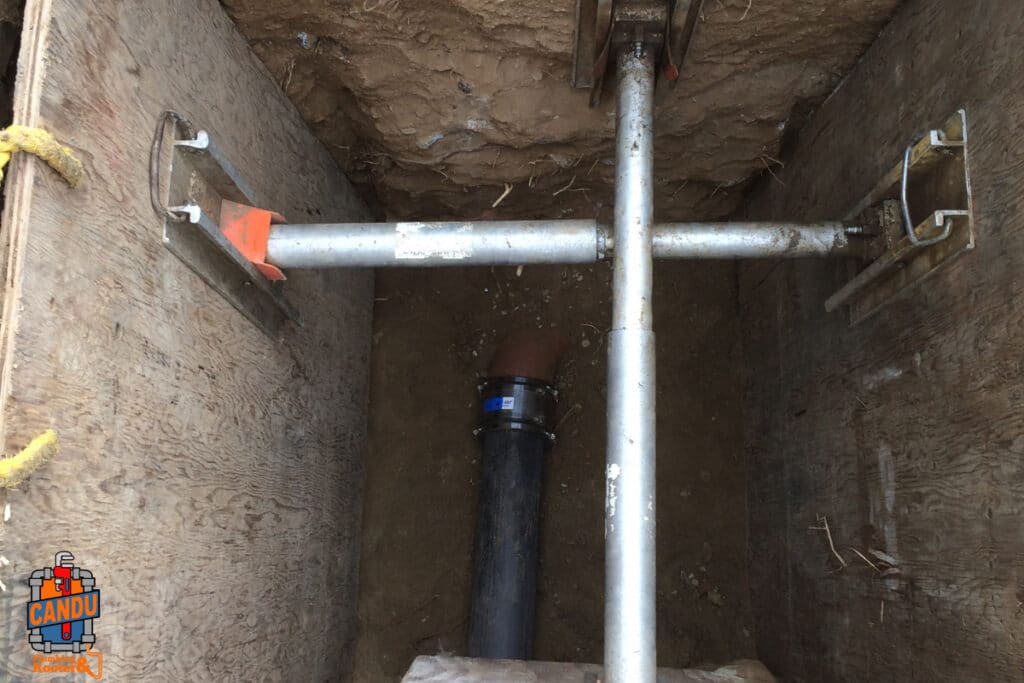 TO LEARN MORE ABOUT CANDU, GIVE US A CALL AT (855) 522-2638.
Signs that You Have a Sewer Pipe Issue
There are some evident signs that the sewer line of your seware quires professional care. One of such indications is a sewage leak from the line and tank. Hence, the soil around it is getting fertilizer and growing healthy. You might want to look at the positive side of this. But you must also know that the sewage system could also be leaky that comes into the drinking water.
Another symptom that reveals that you must have a sewer repair in Chatsworth, CA, is a gurgling noise. If you get a gurgling sound every time you flush a toilet or drain bathtub, it could be the reason for a problem in the sewer line. It's very bad news, and you should contact us for a professional plumber team to help you out.
One significant sign is the odor. The rotten smell of sewage for human is harmfully poignant and hard to misplace. If you can smell such a scent in your yard, you must need a professional. One last symptom is water that delays in draining. It's because the sewer line might have been clogged or got worse. You might feel an urge to fix the problem all by yourself by using chemicals. But you should also remember that those chemicals can spoil your line further. You should contact us for a sewer repair in San Fernando Valley from Candu Repair and Rooter for better opportunity and durability.
Cause and Effect of Sewer Damage
There are many ways through which your sewer can be damaged. For instance, one key reason could be shifting oil. Whether it's by a natural calamity like earthquake or different other reasons, if the ground moves much to impose more pressure to tank or line, it could become damaged or rapture.
Your valuable sewer line can also be damaged if heavy construction kit is being used on the top. The additional pressure can break the line. Clogs will also harm the tank and line. When water cannot pass through a line, it creates an inevitable pressure inside a line. As a result, the line can burst.
Sewer Repair in Chatsworth, CA
None wants sewage seeping in his yard. The moment one can realize he is in trouble, he should contact us. Our team can help him repair his sewer line, replace it, or install a new septic line. The septic repair can cut your pocket heavily. That's why you want to react as quickly as possible to ensure that your system and line are safe. It always pays to engage a professional plumber in Chatsworth, CA, to fix the situation right away.
Consult Candu Plumbing & Rooter
If you want a qualified plumber in Los Angeles, you need to contact Candu Plumbing & Rooter. We offer all types of services involving plumbing-related repair or replacement. You shouldn't throw your domestic life at risk by letting your sewer water mixing with your drinking water. Call us right away and let us check the sewage system and make necessary repairs. It is the easiest way to make sure that your household is in safety and your sewer system is working correctly.
CALL US TODAY OR USE OUR ONLINE FORM TO SCHEDULE A PLUMBING SERVICE IN SAN FERNANDO VALLEY, CA, OR NEARBY!