Top Quality Plumbing Services 24/7

*One coupon per transaction. No combining with other
offers.
Valid from Jan 4, 2021 – Dec 31, 2021
NEED A WINNER?
CONTACT Candu!
Expert Plumber in Sherman Oaks
Suddenly you may see a fault in your plumbing system, and you may need a plumber in Sherman Oaks. Don't worry about getting a plumber, and you don't need to call too many plumbers in Sherman Oaks; call at Candu Plumbing & Rooter. An experienced plumber of Candu will inspect your home, and he will assure the rest of your problem. We also provide emergency service, whether it's early or late, day or night, summer or winter; make an appointment with us. We are always available at your service whenever you need assistance with your faulty plumbing system. If you ask for a plumber in Sherman Oaks who is affordable, trustworthy, and accessible, then Candu is the right choice.
The professional plumber of Candu Plumbing & Rooter is an expert at installing, repairing, or replacing all types of plumbing parts. Our company experts complete each task with excellent efficiency. The plumber performs each plumbing task with accuracy and precision. Moreover, We use the latest and advanced products and equipment for your home service. Call us right away at 855-522-2638 to schedule an appointment with us.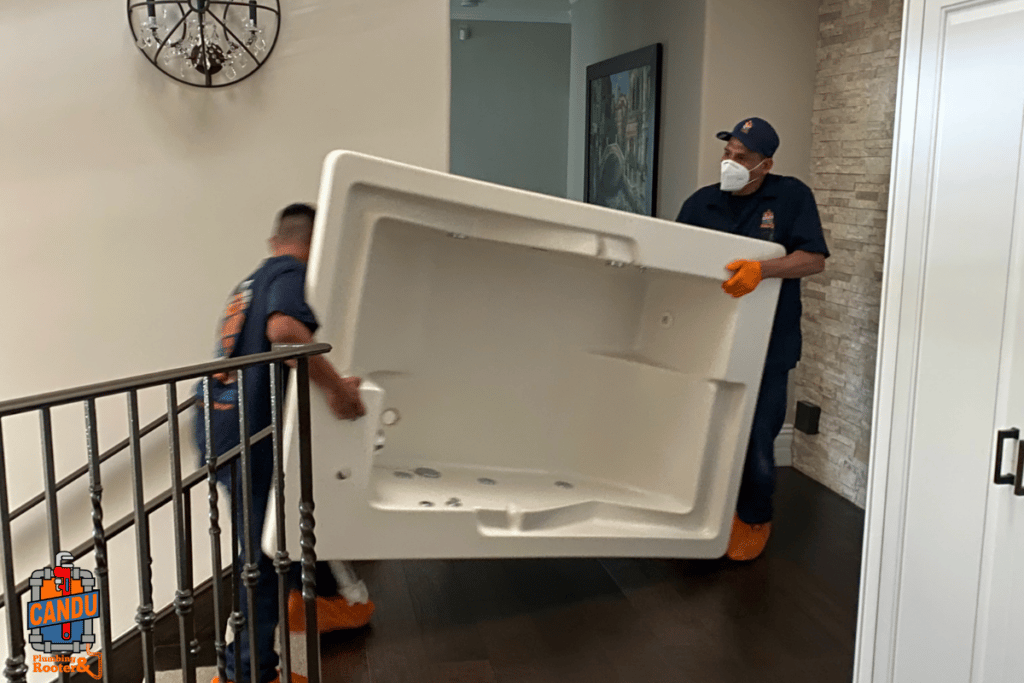 CALL CANDU HOME SERVICES 24/7 AT 855-522-2638 TO SCHEDULE AN APPOINTMENT WITH CANDU PLUMBING & ROOTER!
You should hire a professional plumber in Sherman Oaks if you see any problem with your entire plumbing system because only an experienced and expert plumber can solve all your plumbing problems more effectively than a novice one. We provide specialist help, guarantee our work and customer satisfaction. Moreover, we use specialized and advanced equipment and tools. Only in one visit, our expert plumber can diagnose your problem, and they will also help you fix all your problems.
Candu provides both commercial and residential services to our clients. If you need any emergency plumbing help, you can contact us for a plumber in Sherman Oaks. Don't engage yourself in costly and unnecessary water bills. Leave your plumbing problems in experts' hands and don't need to worry about them.
Searching for a plumber using the web is easy; if you search "plumber near me" on the web, then you will get the result in a second. But you don't need to take too much stress in searching for a plumber. Just call Candu Plumbing & Rooter to relieve all your pain issues. Fortunately, Candu offers top-quality, cost-effective, and affordable plumbing service to the Sherman Oaks citizen. With 20 years of experience, Candu provides commercial and residential plumbing services to our clients.
Candu trained their worker regularly so that they can provide exceptional services to their customers. Moreover, providing top-tier plumbing services and maintaining customers satisfaction is our priority. If you have any requests for emergency services, then without delay, you can contact us.
Candu Is Your Local Full-Service Plumber
Many plumbers in Sherman Oaks are available to provide residential or commercial plumbing services. But how do you confirm which one will give the best service for you? Relax, we will reduce your stress. Just see our clients' reviews, and you will understand which company is best for you. Searching for a plumber in Sherman Oaks on the web would be time-consuming for you. You can take our help in solving your plumbing problem by contacting us. Candu Plumbing & Rooter is the local full-service plumber in Sherman Oaks. You can create a schedule with us for your plumbing service need.
All plumbers in Candu plumbing & Rooter are expert, professional, and certified. And they will use advanced equipment to solve all your plumbing problems. If you want to consult with a professional plumber in Sherman Oaks, then you can connect with us. You can easily schedule a flexible appointment with us, or you can call us at 855-522-2638.
No Reason to Delay the Plumbing Service
For several reasons, sometimes people take some time to take the plumbing service, but taking the assistance in delay can cause you more cost. If a busy schedule is your reason for the delay, then you can remember us. Just schedule an online appointment with us to get the best service at the least possible time. Moreover, on 24/7/365, we are available at your service.
If price is your reason to delay, then be sure that we offer the best service at minimum cost in Sherman Oaks. Candu gives benefits to their customers at the best possible competitive prices. Moreover, we offer coupons, discounts, and promotional offers to our clients. So, if you choose us, there is no reason left for why you should delay in getting your plumbing services.
If you are facing a plumbing disaster suddenly, you can call us on our official line. You can contact us by scheduling an appointment or call us at 855-522-2638 to take the service. Our expert plumber is always available to receive your call, and within an hour, a plumber will be available at your service.
CALL CANDU PLUMBING & ROOTER TO SCHEDULE A PLUMBING SERVICE IN SHERMAN OAKS, OR NEARBY!