Top Quality Plumbing Services 24/7

*One coupon per transaction. No combining with other
offers.
Valid from Jan 4, 2021 – Dec 31, 2021
NEED A PLUMBING SERVICE?
CONTACT CANDU!
Top Pipe Bursting Services in Los Angeles, CA
It's not new to apply pipe bursting services in house or other constructions. Since Pipe bursting is an effective and long-lasting method for the services, it has been performed well for many years. CANDU Plumbing & Rooter has skilled team members to operate the pipe bursting work. In your residents or business center.
Pipes can be blocked, or sewer lines can be damaged because of leakage. For this sort of reason, people need to implant pipe bursting. Instead of replacing an existing pipe, CANDU Plumbing & Rooter uses the pipe bursting technique so that your property and lawn get less affected. We also provide skilled plumbers in San Fernando Valley, CA, for various purposes.
Sometimes it does not feel straightforward to get access to all the pipes one by one. Using this pipe bursting technique, we clear our entrance into lines by bursting the pipe with a specialized tool. If you feel confused about how it is possible to do the task for your residents, contact us for brilliant services with a 100% money-back guarantee. We ensure the safety of your plumbing system while working. According to the pros and cons of pipe bursting, your experience will be grateful or terrible. Read more to know the overall procedures of pipe bursting.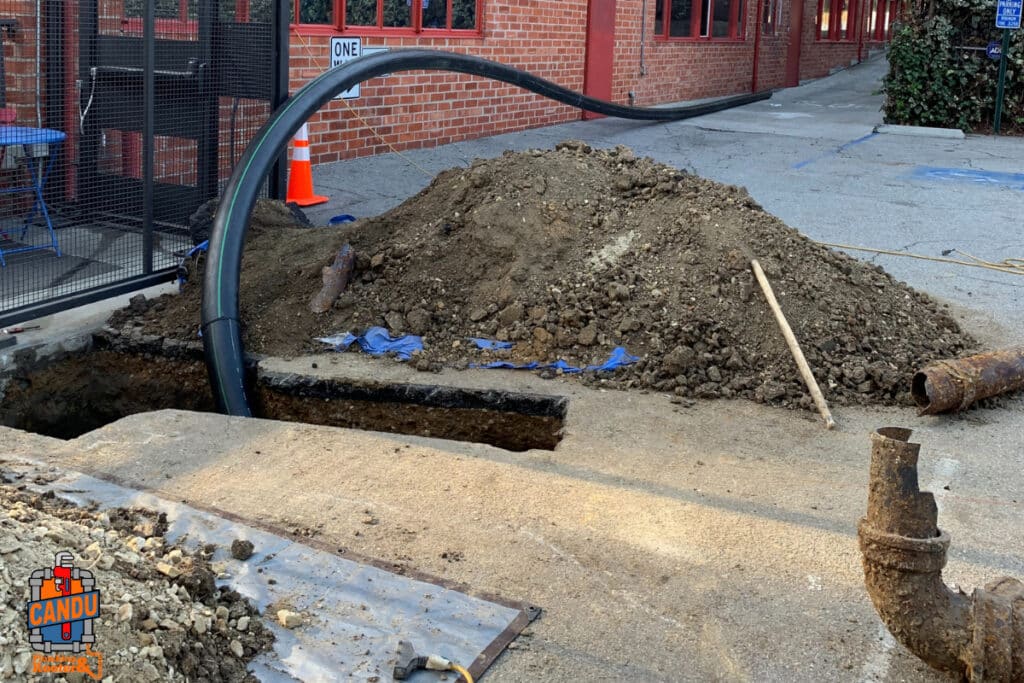 TO LEARN MORE ABOUT CANDU, GIVE US A CALL AT (855) 522-2638.
Definition of Pipe Bursting
Fundamentally, the pipe bursting technique is a non-offensive strategy for replacing the lines. Our team digs the holes to get access to each side of the existing pipes to execute the process. Once the digging is completed, we will enter through pipes with the help of specialized tools.
After that, we can burst those pipes while setting another new pipe into the place. Throughout the process, the pipes need to be replaced by turning them out one by one. The whole process prevents the massacre of your yard like a traditional replacement. CANDU Plumbing & Rooter is the best choice for pipe bursting services in San Fernando Valley and the neighboring areas.  
Benefits of Pipe Bursting Services
There are a few benefits that lie in pipe bursting. If you use this technique for specific needs, your ground will be free from haphazard. Some of the extra benefits are given below:
It is a faster process than digging a trench. The cleaning measures become more prominent in this technique than others replacing strategy.
When we connect a pipe without digging a trench, the others infrastructure such as gas lines, electrical lines, and yards of the residents remain unharmed.
The addressing is more accessible by using the existing position, and no need to make any maps for adjustments and accessing.
The time and money will be saved.
A significantly less impact occurs to the public property and personal stuff because of using light machines.
The benefits are an example of the good sides of pipe bursting. However, we would like to address the problem after coming to your location and suggest the best solution for sectors.
Though there are many benefits of pipe bursting, we still try to find the best solutions for you. If you have leakage problems or related troubles, pipe bursting is not the only solution for every situation. We recommended you let us enter your locations and find the actual issues and solutions.
We are very experienced with plenty of experts in plumbing services. If you need the Pipe Bursting Services or plumbers in San Fernando Valley, CA, for various purposes, contact CANDU Plumbing & Rooter for the best services. Set an appointment with our team for any plumbing problems in your residents or offices.
CALL US TODAY OR USE OUR ONLINE FORM TO SCHEDULE A PLUMBING SERVICE IN SAN FERNANDO VALLEY,CA, OR NEARBY!